YouTube on Friday announced the launch of a new program named as Signature Devices. This completely controlled program includes the high-end devices in the support list to provide the best video streaming experience with the hardware capabilities. The list released by the company includes some of the latest handpicked flagships which are beast in terms of performance and hardware power. However, the list seems to be incomplete and it includes some of the underpowered devices too. So it appears to be a sponsored or an associated program with brands.
"To qualify as a Signature Device, a phone must support high dynamic range, high frame rate, reliable DRM performance, 4K decoding, and use next-generation video codecs. We've worked with manufacturers to verify these devices meet or exceed our performance expectations." – said YouTube in the official announcement of the program. The company further added: "These smartphones can deliver the best-in-class YouTube experience by combining next-generation technologies, video performance, and reliability. With a Signature Device, you can enjoy vivid HDR videos, immersive 360° video, and fast video load times – all while using less bandwidth."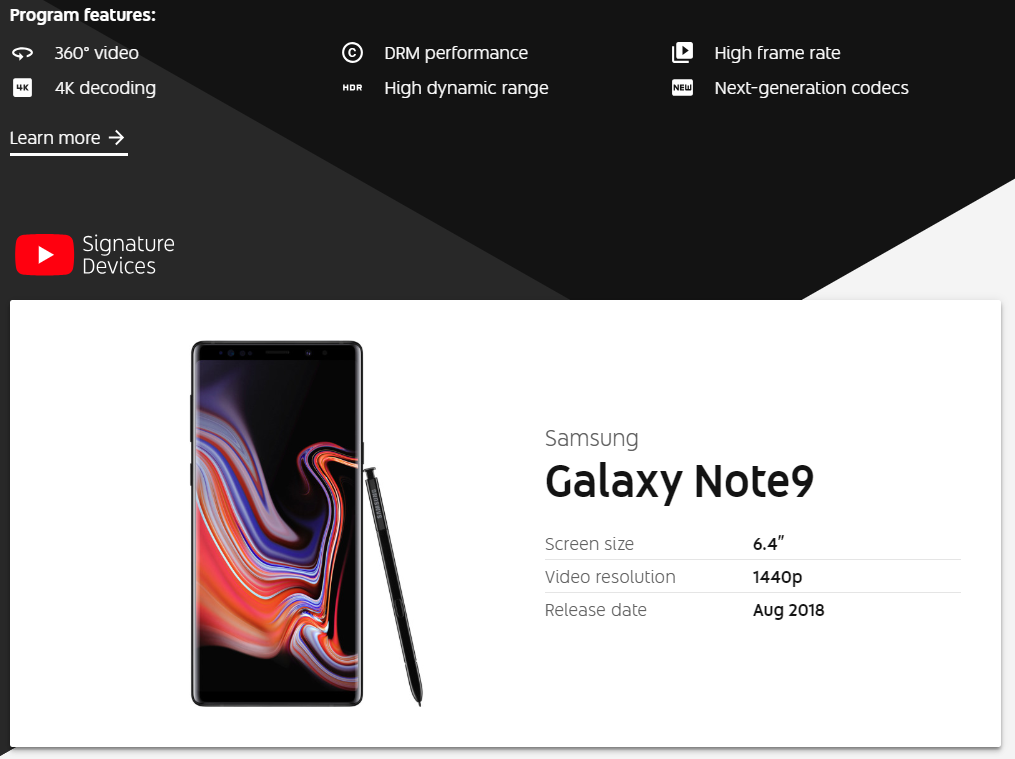 The just-released list includes the upcoming Samsung Galaxy Note 9 smartphone too, which was launched as the best supporting device for YouTube streaming. All other supported devices include Sony XZ2 family, HTC U12+, OnePlus 6, Mate 10 Pro, LG G7 ThinQ, Mi 8, Nokia 8 Sirocco, Mi Mix 2S, Galaxy S9 series, Pixel 2 series, Galaxy Note 8, LG V30, and the Galaxy S8 series. However, the list has expelled many premium powerful devices which have good hardware features as compared to any of the above devices. So it confirms that this involves a brand-level association for the best video experience.