Xiaomi has announced one of the most anticipated entry-level budget smartphones by the Chinese manufcaturer, Redmi 5 and Redmi 5 Plus through their official Weibo handle earlier today. According to the company, the smartphones will be officially launched on December 7th. The smartphone's official images look as same as we have already witnessed on sets of leaks roaming around lately. Despite of the smartphone confirmation officially, they have not yet said a single word about the hardware specifications the devices could possibly feature.
As far as we know, the Xiaomi Redmi 5 will be an entry-level smartphone with some competitive features on the specsheet, at least the best-in class performance as the company has been promising us all the time, hopefully. Concerning the earlier leaks, the device will feature a 5.7-inch HD+ display having 18:9 aspect ratio, powered with Qualcomm Snapdragon 450 SoC, paired with 3GB of RAM under the hood. The smartphone is already confirmed to have a larger battery of 4,000mAh,  soft-light selfie camera and a full-vision display having 18:9 aspect ratio. The device will surely carry a form factor that will look afar from the conventional design pattern being followed on Redmi series, but with more resemblance towards Redmi note series smartphones, with a fingerprint scanner mounted on the rear.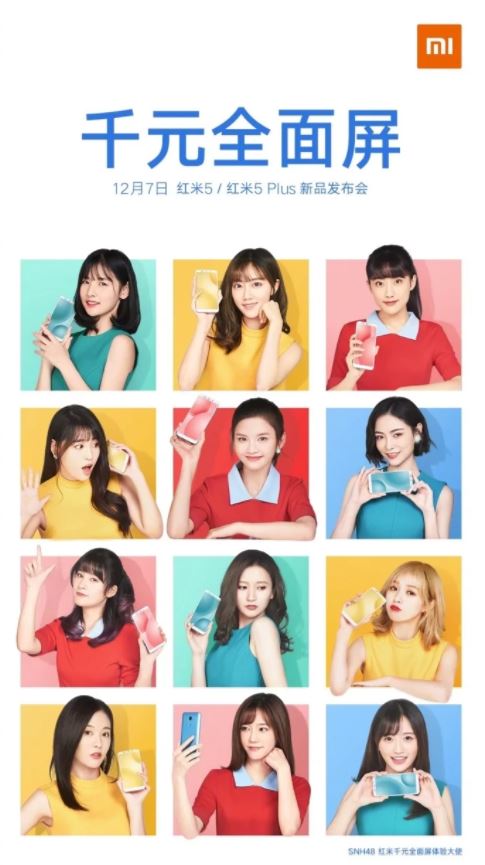 In the meantime, the Redmi 5 Plus, latter variant of the Redmi 5 is expected to carry almost the same design, similar features , but somewhat 'upgraded' internal hardware. The device will have a larger 5.99 FHD+ Display, powered with Qualcomm Snapdragon 625 with 3 or 4 gigs of memory onboard. Interestingly, this model is also said to sports a dual camera setup on the rear.
Just like every single time they have amazed us with affordability-factor of their smartphones, the Redmi 5 and Redmi 5 Plus too wiill have low-cut price tags of $105 and $151 respectively. Set the reminder for December 7th if you are excited to see the smartphones at early.