Turing Robotics, a smartphone technology company located in California, is famous for uneven smartphone concepts. The company lately came with one of the first concepts of devices with 6GB to 12GB RAMs, which did not even see the lights. Now, the company comes up with another smartphone model – Turing Hubblephone, which is named after Hubble Space Telescope (HST). The smartphone has a strange design, with a secondary display dock that can be moved. So far, only concept renders were out by the company officials. However, we got a new set of images that shows the smartphone in the flesh.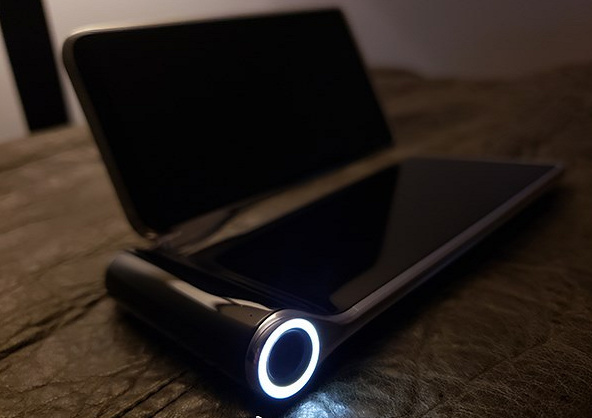 The real-life images clear almost every doubts regarding the smartphone concept. As the company announced, the device got a massive camera to the corner, which we can use with the secondary display as the viewfinder. Of course, the smartphone has a rotatable screen docked to the top of the main screen. You can rotate is around the 3D axis. The company calls it the multi-dimensional display. There is also a notch at the horizontal side of the main screen that comprises the triple front facing camera setup and other sensors. The secondary display also has one, with another camera for selfies.
The latest leaked prototype is not working, But, reveals the design aspect to an extent. The large camera setup that is expected to carry at least 60MP sensor has an LED ring around. But unfortunately, the top portion of the device is much thicker than usual smartphones. Anyways, let us look into the specifications the company offer.
Turing Hubblephone is said to arrive by 2020 only, powered with two Snapdragon 855 (alleged) processors along with The main camera sensor with 60MP resolution might have a 15x optical zooming capability with a wide aperture. The device will also focus on various advanced areas including AR, VR, MR, etc.
Even though the previous smartphones by Turing company became a flop, the company continues to announce 'weird' smartphones, The latest addition to the lineup seems to come at $2,750. We can wait for a few more days to get the complete information concerning the Turing Hubblephone.