In this modern world, keeping things secure is not an easy thing. We have to be very vigilant to keep our important things safely. This is the era of smartphones, everyone are using smartphones. If we look at a crowd of people 98% of them will be using a smartphone. As you knoe Android always stays as best operating system in the world. So there is no doubt that most of the devices will be powered by Android operating system. Because of the popularity of Android operating system,almost everyone know each and every points of Android. So even a kid can operate your mobile phone. We all will have our own secure files, secure data, apps etc. So we will have to keep them safely. In this guide we are sharing some best app lockers for Android devices. With these 5 best android app lockers, you can secure your apps, chats etc. Checkout them :
1) AppLock (DoMobile Lab)
AppLock is one of the best and feature packed app locker system for Android operating system, The app is developed by popular mobile app developers, DoMobile Lab. Applock is known as the most downloaded app locker for Android devices in last year. It is a completely free app and you can directly download from Google Play. The most important feature of this app is, it is 100% secure. That means you won't be able to access the app if you don't know the password. It also provides the facility of pattern lock to different App with different background colors. It counts around 1 million users with the support for 24 different languages.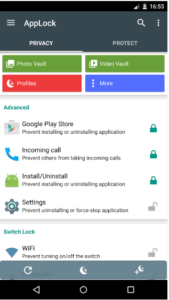 Download the app now for free.
[appbox googleplay com.domobile.applock]
2) Perfect App Lock
Perfect App Lock is a best rated Android app locker by famous developers, Morrison software. It is also a nice android app locker app with some good features. Unlike other apps, it has some advanced features like fake fingerprint locker, fake error popup and the normal password protection. It also offers a good feature named stealth mode. Stealth mode helps to hide a particular app completely from launcher. Which is very useful. The fake error pop-up is the best locking solution for Android. It will show a fake error, that the process stopped working.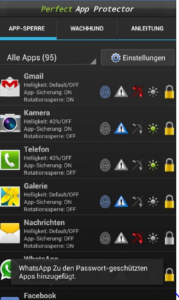 If you are interested to try out the app, use below link.
[appbox googleplay com.morrison.applocklite]
3) Vision app Locker
Unlike other locker apps for Android, Vision app locker provides ability to lock the apps with your face. It uses both face recognition technology and pin password protection. We can use our face to unlock any locked apps. Which is a pretty nice feature of the app which imparts an interesting user experience to the users. As per the data from store, it counts around 1000,000 downloads globally.
If you are interested to grab the app, checkout below link.
[appbox googleplay visidon.AppLockPlus]
4) Smart App Lock
Smart App Lock is one of the best android app locker available as free download. It is developed by app company SpSoft. The app has over 50000+ active users. This app helps you to protect even system apps too. You can protect system apps like WIFI, Bluetooth, cellular data, settings etc. It features password lock and pattern lock at the same time. Unlike other app locks, you can set separate lock passwords for each apps. It provides cool user interface and other features like screen rotation locks etc. So download now.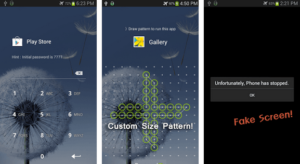 [appbox googleplay com.sp.protector.free]
5) ES App Locker
ES App Locker is one of the best rated Android app locker from the developers of famous app ES File Explorer. The app locker of ES comes as a simple application. It is a lightweight tool to lock your apps by using pattern or pin. It is a simple tool with basic features. But it gives less load to the processor, so it is better to checkout the app. And the package size of the app is also small, so download now.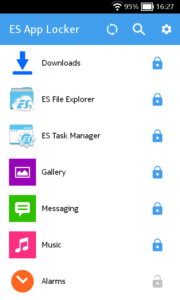 [appbox googleplay com.estrongs.locker]
Did you enjoy this app review ? Please share to your friends also.
Please subscribe to Android Hits newsletter for freebies and instant news.
[email-subscribers namefield="YES" desc="" group="Public"]