Make it last forever, this used to be a phrase that was wholly considered American. Now that the internet is upon us, the standards of quality have gone down for most brands.  Also, sites like Amazon & Shopify have flooded us with low-quality counterfeits of nearly everything. Military smartwatch brand, T1 Tact Watch, is going back the old American standards by adding a tool kit that may make their wrist gear last forever.

What's in the tool kit?
The premier release by T1TW was the "Midnight Diamond" tactical watch.  The black watch comes with a matching box. Inside of it is the user manual and nothing more.   Well, it used to be that way.
Beginning this week, a maintenance and watch replacement tool kit will be sent with every order.  This free gift to online store customers (shop: www.T1TactWatch.com) will make it possible for wearers of their watch to replace batteries themselves. This eliminates the expense of the basic maintenance service. Repairmen usually open & close the dial in 10 minutes., then charge upwards of $20.   Over the lifetime of a tactical watch like the 'T1TW,' this could save hundreds of dollars. Most smartwatch brands do not offer this.
Others changes announced
Beyond this, T1 Tact Watch company also announced their actual smartwatch and the  'watch box' will be changing soon. Due to the extreme level of counterfeiting done to the brand, the actual company name will be branded onto the 'Midnight Diamond' model in various places.    The boxing container will soon be a bit larger than the original, making space for the tool kit and larger sized manual.
For the branding, in a few weeks, all authentic T1 Tact Watches sold will have the name etched into the dial.   Also, on the watch strap, the company name will be engraved on the clasp and solid steel case back. This will be symbols of authenticity that can no longer be replicated.
Avoid fake watches
The T1TW brand only sells its smartwatch via T1TactWatch.com.  They do not allow any other online stores to sell their merchandise.   Therefore, if buying anywhere else, it is a counterfeit item.
Beyond this, apparently, there is a very high risk of buying smartwatches that will fail from other sites. Tons of people complain about these fake watches online, discussing issues from dial buttons not working to watches just dying, within 30 days. No refund will be given by these counterfeit shops either as many are no US based. Foreign law does not usually favour buyers.
What makes a military tactical watch special?
Durability is key when working in the tactical training world.  It is a form of athletics mixed with security. The "Midnight Diamond" is indeed a military tactical smartwatch.  It was designed with the idea of durability at the forefront of each addition. Videos exist of this tact watch on fire, yet it did not get burned nor destroyed.  In fact, it looked brand new after the burning, almost as if the flames cleaned and renewed the aesthetics of the digital wrist gear.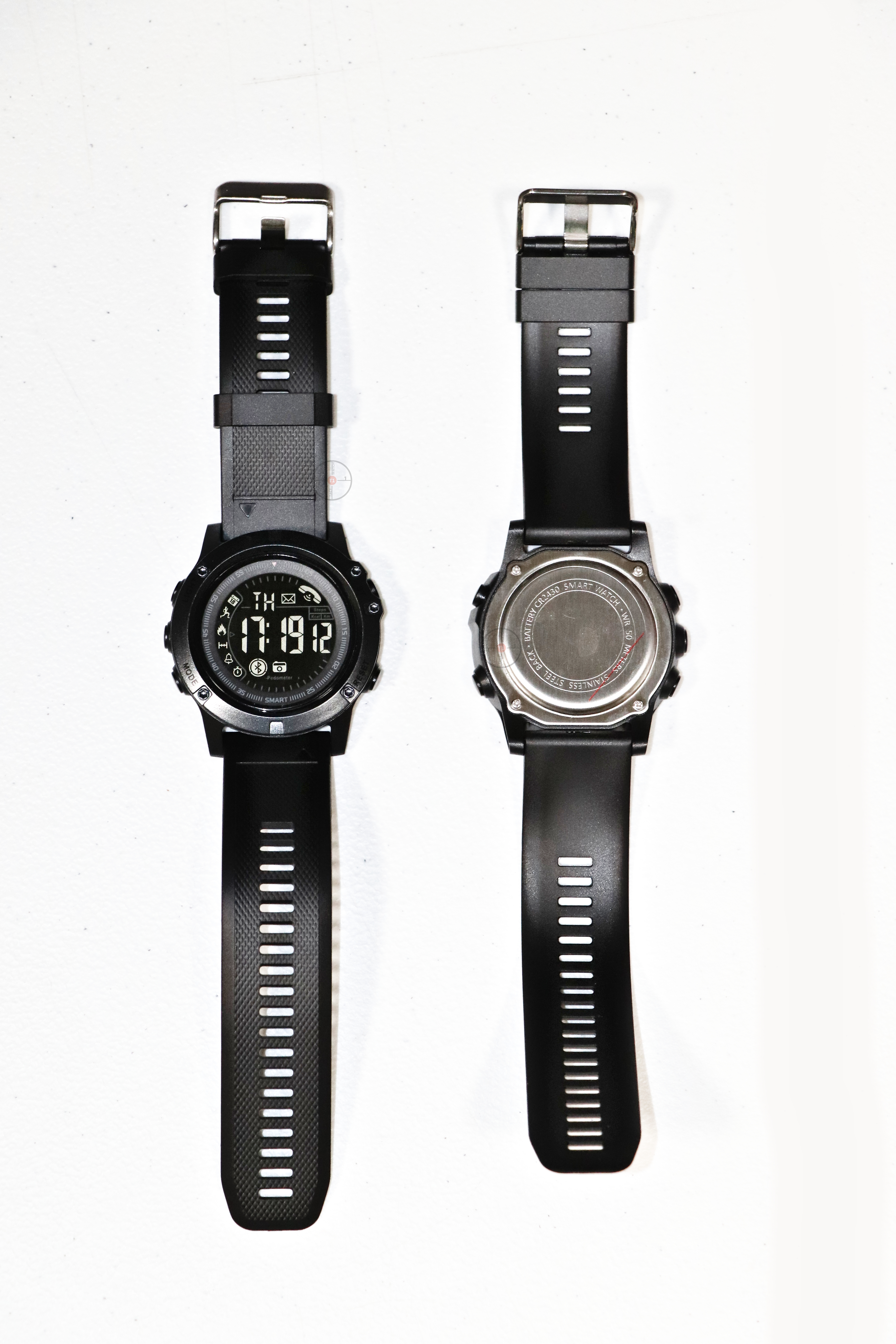 Other basic features of the smartwatch include a mineral glass watch crystal (LED screen).    The numbers are a large digital display for easy reading. Time can be set to display in 12-hour or 24-hour intervals for the in the military fields.   The T1 Tact Watch "Midnight Diamond" is also waterproof and dustproof. It has over 10 other features (see here) as well, including a remote control app for your smartphone camera.  It commandeers control of your smartphone's photography shutter, allowing you to press a button on the watch dial for photo snaps.

Tactical Smartwatch for women too?
According to the official T1  Tact Watch website, this can be worn by both sexes, men and women. However, it is naturally labelled a men's watch because of its dark color and strap width (not length).     For such a minor reason, many women have moved on from such store labellings, not allowing manipulation of their own tastes. An all-black watch, it's the preference of most into tactical training no matter if a man or woman.
Women who work in firefighting, army & military services, security, extreme sports, or tactical training can wear this.  The "Midnight Diamond" T1Tw watch dial is midway sized. It measures almost exactly between the average men & women's sports watches (view here).