We have been hearing a lot of rumors regarding the official debut date for the forthcoming Samsung top-notch smartphones, Galaxy S10, and Galaxy F, as for February 20th. Those were only rumors and there have not been any official confirmation from the side of the Korean manufacturer, until now. Samsung just spotted to be sending out the invitations for their prestigious Unpacked Event, which will befall on February 20, as expected.
The official launch debut of the Samsung Galaxy S10 will be held on February 20, 2019, in San Francisco, confirms the invite letter.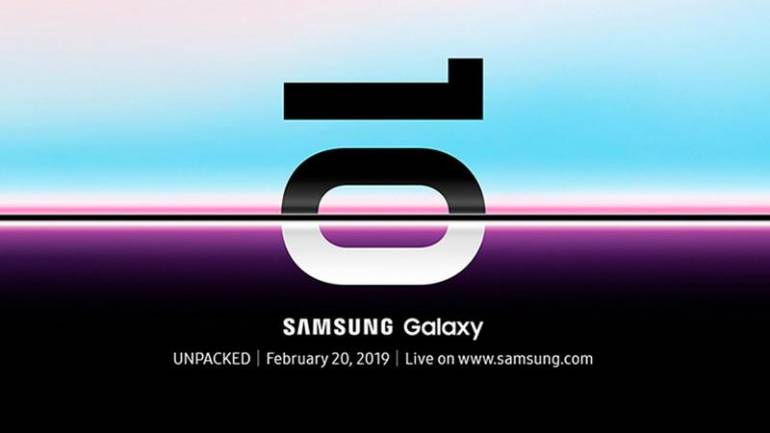 Recalling the previous events, Samsung is not the kind which launches the S-Series smartphones at this earlier. However, the availability of newer series of chipsets and networking capabilities (5G) might have helped them with moving forth in advance. The launch invite teaser image clearly depicts some of the key form factor characteristics of the smartphone, including the thin bezel (thinner than other Galaxies) alongside the curved edge. The immersed symbolization of number "10" also hints towards the Galaxy S10 release.
As like every other Galaxy S and Note series devices, there are some reasons for people who are waiting eagerly for this. The smartphone is anticipated to a great degree, that it would carry an in-screen fingerprint scanner, using an ultrasonic biometric sensor from Qualcomm. Not every model will support the 5G network, but the 5G variant for the model will be available and that would be a breakthrough moment for Samsung. And finally, and most interestingly, the smartphone will be cheaper than the preceding Galaxy S9 and S9+ models. This would encourage more buyers into Samsung's ecosystem, in contrast with the super-expensive iPhones sold by Apple (sorry, Apple fans).