Finally, The mobile giant Samsung has launched their new version of successful devices Galaxy J5 and Galaxy J7 in India. Today Samsung launched Samsung Galaxy J5 2016 and Samsung Galaxy J7 2016 in India. Both are simple a refreshed version of previous one. The company announced a great pricing for both of the devices which is good enough to catch Indian eyes. The new devices of the Samsung Galaxy J series comes with some good specifications for the good price. Both of them looks very premium and posses a royal body. Galaxy J5 2016 and Galaxy J7 2016 resembles in some things including camera and operating system versions etc. Both of them comes with Android latest version Marshmallow, 6.0.1. Both of the devices have 13MP cameras at the back and 5MP front facing cams. Both gives premium feel with the metal frame located at the sides.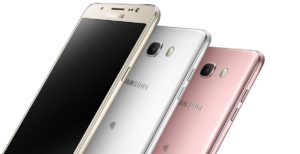 Let's talk about other specifications, Samsung galaxy J5 2016 comes with a 5.2-inch 720p Super AMOLED display, 1.2GHz quad-core Snapdragon 410 SoC, 2GB of RAM, 16GB internal memory, microSD slot (up to 128GB), and a 3100mAh battery. Which is pretty nice for a typical Samsung device. The Galaxy J7 2016 offers a big 5.5-inch 720p display, with the power of a 1.6GHz octa-core Exynos 7870 SoC with 3GB of RAM and 16GB storage along with a 3300mAh battery.
Pricing and availability :
Samsung Galaxy J5 2016 will be available to buy for ₹13,990 and Galaxy J7 for ₹15,990. Both of the devices serve better specifications for the price. But if we compare both, we will notice that Galaxy J7 2016 is much better than J5 because you can get a bigger screen and more RAM for extra ₹2,000. Both of them will be available to buy from Flipkart starting today evening. What do you think guys ? Shout out in comment section.
Do share this article if you enjoyed it.
Please subscribe for our newsletter to get instant updates on freebies and news.
[email-subscribers namefield="YES" desc="" group="Public"]