Smartphone manufacturers and Chipset manufacturers are currently working hardly on to bring the 5G network bands supporting Chipsets and modem by 2019 or early-2020. Currently, Intel and Qualcomm have got their hands on to the Qualcomm's X50 Modem that could bring 5G bands to Smartphones. Also, many other Semiconductor manufacturers will likely to develop their own 5G modems. Now, a report coming from China confirmed that the Huawei HiSilicon is currently working on to develop their own 5G Modem.
Huawei's​ in-house Chipset manufacturing unit develops Kirin processors for the company's Smartphones which could withstand against flagship Chipsets from Qualcomm, Mediatek and Intel. The company has already Kirin 960 in market, powering their latest flagships including recently launched Honor 9. They will probably launch the Kirin 970 by the end of this year, Kirin 980 by next year and Kirin 990 by 2019. The anticipated Kirin 990 would be the first Chipset from the Huawei to integrate a 5G Modem Chipset inside.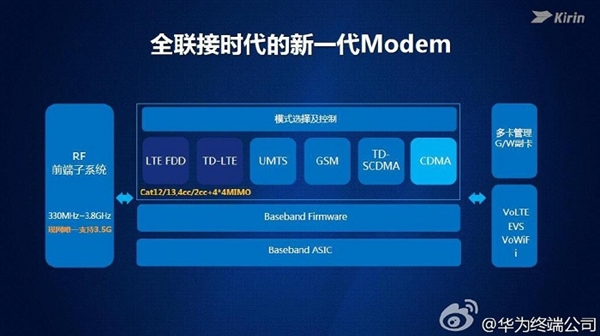 According to the Huawei Wireless Network division CMO Dr. Peter Zhaou, the company is working on 5G modems including their baseband and support with Kirin Chipsets. The final product of Kirin Chipset (Kirin 999, expectedly) with 5G band support will launch by 2019 and the Smartphones will be first products to support 5G bands. As the Intel and Qualcomm are planning to develop 5G baseband with support to 28GHz millimeter waves and 6GHz bands, and speed upto 5Gbps downrate and 120Mbps update, Huawei too will develop such speedy manner Modems. Zaou has not yet revealed further information about the development, but it is still under better progression, he says.