It has been a while since we heard the name of Japanese electronic giant Sony in the smartphone market last time. The company has been involving in launching several smartphones of Xperia X series, but they could not drag the attention as they all have accompanied with average specs but larger price tags. Now, we have just started hearing about Sony again, behalf of new smartphones like Xperia XZ1 from past couple of days. Several hours back, an Indian website, in collaboration with the leakster @OnLeaks has developed a set of render videos by analyzing the recently leaked pictures of the Xperia XZ1 Compact smartphone which shows the complete schematics and structures.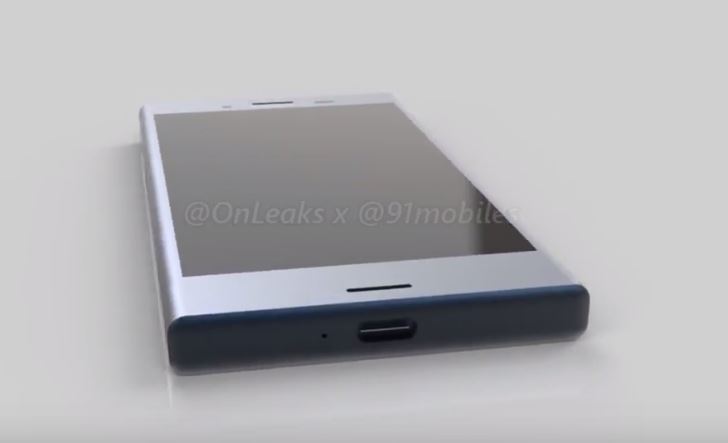 Dissecting the renders, the Sony Xperia XZ1 Compact would carry a screen of 4.6 inches, with a USB Type-C port on the bottom and a 3.5 mm headphone jack at the top. The smartphone design is almost same as every device in the Xperia series, and having a thin-bezel which does not make any sense in the smaller sized screen.
The "Compact" series consists of smaller screened devices from the Sony Xperia devices, being launched in every series of devices from last several years. The Xperia Z series and X series have gotten many of the Compact versions, and the last one was Xperia X Compact. One of the main facts that the Sony had stopped manufacturing numerous quantitative amount of Compact devices is the sales graph slash in Asian and middle east nations, whereas the device has been sold out fastly in United States market. But this year, 2017, everyone goes after the larger screen sized devices in favor of better visibility and app compatibility. Even the US market has changed a lot, as even the Apple has enlarged the screen sizes of recently launched iPhones from 6 to 7. From this aspect, it would be an utterly stupid move from Sony to make Compact devices again which seems clear that it won't see much light on the market out there.
The company has been almost wiped out from the market these days. They are focusing on overpriced midrange smartphones, and most parts of the market do not want such devices. The situations have been changed a lot like "if you have the money to purchase a Sony mid-ranger, you can get a decent flagship at the same price or lesser." So, we would like to note our opinion about Sony by analyzing company's current condition that the company has to face a harder time ahead, so better they keep away from this or keep a way for something better.