Lenovo had just launched their latest smartphone in Zuk series, Lenovo Zuk Z2 in China, a couple of days ago. Also they are all set to let the device to go on sale in June 7, coming Tuesday. Company has now started the registration process for the device.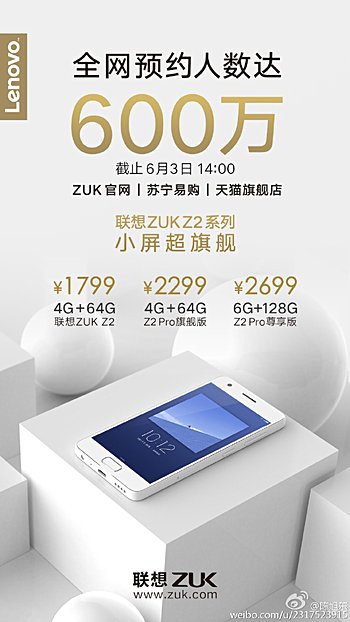 Lenovo Zuk Z1 has some impressive specs including Snapdragon 820, 4GB RAM, 64gb STORAGE AND 16MP Primary Camera, etc. The display is of 5 inch with Full HD resolution. Battery pack is juiced of 3,500mAh.
Lenovo has recently revealed that the registrations for Zuk Z2 have now crossed 6 Million through the company's weibo page. It is very interesting and impressive. This is the proof of the glory of its predecessor Zuk Z1. But these numbers just shows the people who had registered for the device only. This will not be the same count for the users who are willing to buy or pre-order the device.
The device is priced at $275. register for one, if you are interested.