Smartphone chipset manufacturer giant Qualcomm had announced their next-gen flagship breakthrough processor Snapdragon 835 Chipset as the successor to Snapdragon 820/821 which are now powering up the contemporarily launching flagship devices. Along with Snapdragon 835, Qualcomm also unveiled the fastest mean of boosting up battery, the 4th Generation of Quick Charge.
Snapdragon 835

Qualcomm is not declaring much information regarding the upcoming Snapdragon 835, but some information is known from press releases. It will be the best successor to the Powerful SD 820 and 821, with a more efficient way of manufacturing and higher clock rates. From the official declaration, it is now manufacturing with 10nm FinFET process, while the Snapdragon 821 was made in 14nm technology. This will give better battery backup and cause only lesser power consumptions by components. According to Qualcomm, new Snapdragon 835 is efficient in many ways, 30 percent increase in area efficiency with a 27 percent improvement in performance or up to 40 percent less power consumption, with the 10nm process by Samsung.
Qualcomm also just begun the bounty program for Snapdragon 835.
Quick Charge 4.0
Quick Charge 4.0, of course, the faster generation of Qualcomm's Quick Charge technology. It will be available with the Snapdragon 835, and later processors. Qualcomm mainly gave priority to efficiency this time, not for speed. It has increased the speed to 20% faster, also the battery efficiency is great to imagine. Qualcomm calls their new way of efficiency as "5 for 5". This means, it can run up to 5 hours with only a 5 minutes of charging, which is great enough. But that doesn't mean the smartphone battery gets juiced more with these time. Juicing up the battery from 0 to 50% charging takes around 15 minutes with Quick Charge 4, while QC3 takes nearly 30 minutes.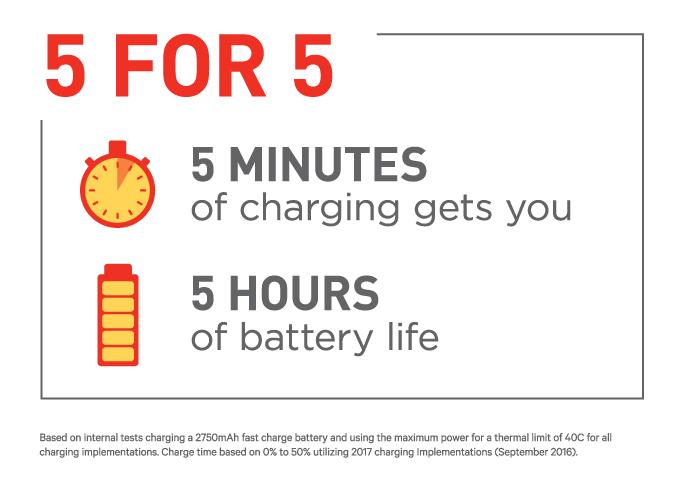 New generation Quick Charge also aims to solve many issues and drawbacks faced by previous generations. One among them is USB Type-C and USB Power Delivery compliance, makes the Quick Charge more universal on all types of connectors. It also features some battery saver options and safety measurements. INOV (Intelligent Negotiation for Optimum Voltage) can request for the optimum amount of voltage and current at specific times t 20mV or lower.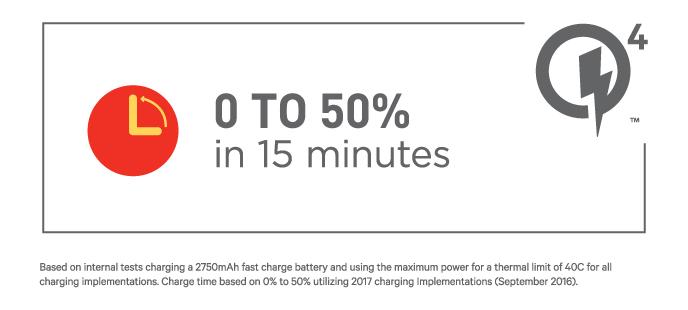 The new Dual Charge technology diverts the input current through another IC to charge faster and ensure more efficiency. The Quick Charge 4.0 will be available on flagship devices from the first half of 2017, promises Qualcomm. But it is not sure whether the Samsung and LG would be able to integrate Quick Charge with their upcoming flagship devices Galaxy S8 and LG G6. The new USB Type-C complete support will encourage companies to remove the traditional micro USB port and replace with more efficient and good looking USB Type-C ports.