Oppo owned Chinese startup company, OnePlus is now getting ready to announce their latest upcoming device named OnePlus 3, soon. The device has been rumored many times as well as some leaked informatios showed as it has some Higher-End specs. Now, a leaked screenshot from GFXBench reveals almost every specification which is supposedly to be packed along with next OnePlus smartphone.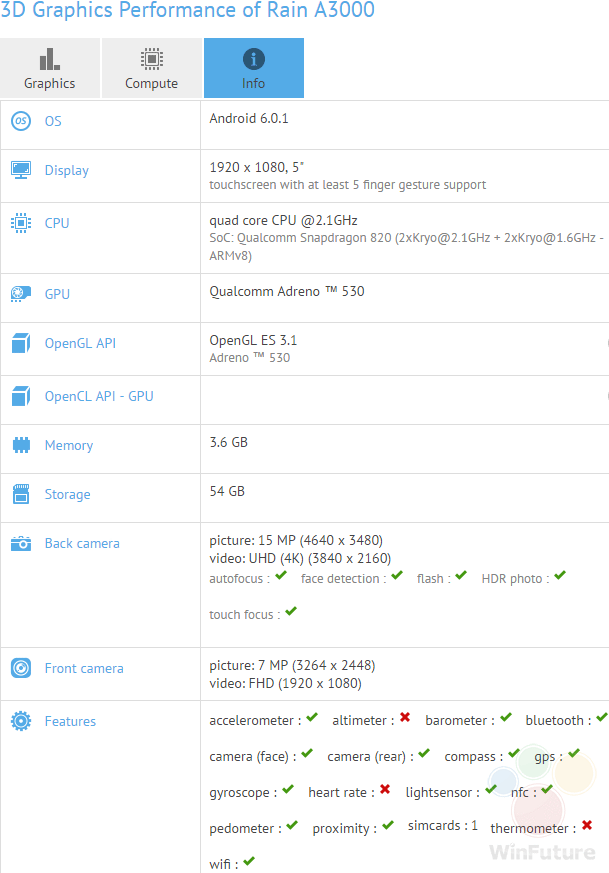 As from the informations listed on GeekBench, the OnePlus 3 devices are code named as RAIN RAIN A3000 and A3003, will feature a 5-inch Full HD display. And is powered with Snapdragon 820 SoC coupled with 4GB RAM and 64GB internal storage. Main Cmaera is of 16MP and a front facing one of 8MP. The A3000 variant for the device seems to have a 6GB of RAM chipped.
According to the GFXBench, it also suggests the device named as RAIN 3000, specced with almost same details shown in GeekBench and caries Snapdragon 820 with four gigs of memory. The camera modles are of same 16MP and 8MP, but with a 4K Video support.
According to the Chinese news portal Ifeng, the device will be unveiled on late May and go for sale on or within June. The predecessor device OnePlus 2 was codenamed as Sprint, last year. So the current name for OnePlus 3 as "Rain" is trusted. There is both rumors about the device as it would be either Mid-Range or Higher end, but more priority goes to High-End because its mid-range device OnePlus X was launched a while ago only. Also we are not sre yet, about the device's actual specifications and we need to assume about it as the day for arrival is closer to us. So, if you really wanna go for anothe Chinese badass smartphone, et's wait and see how could be the OnePlus is going to announce its next flagship device.