Lenovo has recently launched the latest Moto flagship devices Moto Z and Moto Z Force, with some cool stuffs named Moto Mods launched along with the devices specially designed for them. Now the Lenovo (Motorola) is trying to do an interesting thing which has already done by Windows 10 Mobile and Android doesn't, the OS extending to larger screens to use it as a PC. The feature has been enabled in Windows 10 Mobile last year, named continuum which extends the limitation of smartphone into a PC. In the Tech World Conference, Lenovo had introduced almost same level of idea to show up your Android screen on a PC monitor, by using a module, named OneCompute.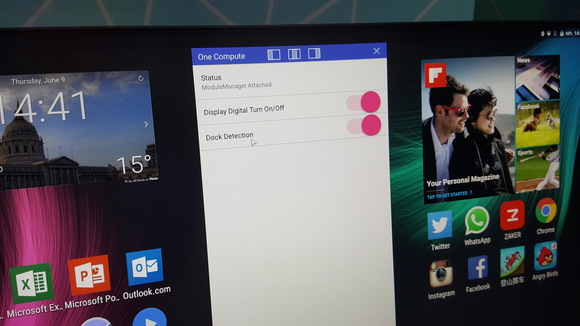 The OneCompute is one among many Moto Mods, which are coming along with Moto Z devices to unleash the device's power. The hard case for OneCompute Moto Mod can be placed through the 16-pins magic magnetic connector on rear panel, as usual in other Moto Mods. Additionally, there is a wire and a deck hanged at the tip of this Moto Mod, which has three USB 2.0 ports, one HDMI and a power input ports. The 3 USB ports can be used to connect Monitor, Keyboard and Mouse.
The desktop User Interface while extending is almost similar to that of Android tablets. As it has the larger screen to display, it supports multi-window, multi tasking, App window overlay, minimize-maximize, etc. The status bar, with notification drawer is placed on the top itself, which shows some resemblance towards Linux OS. There is no App drawer screen is showed, but the Apps and widgets can be accessed from the Home section, by scrolling sidewards.
Obviously, the OneCompute Moto Mod is currently in developing stage and there could be launching just after the sale starting of remaining Moto Mods on spring, and be priced somewhat around at a cheapest price of $20 or higher.
Wait for the moment which it happens !