Microsoft, leading tech company has now released a version of their famous translator app for Amazon Fire tablets. It is already available for Android smartphones, but it wasn't optimized for tablets. Now you can enjoy that amazing service on your Amazon Fore tablet.
Features of Microsoft translator app : 
Speak or type to quickly translate into over 50 languages
Have real-time conversations in Chinese (Traditional and Simplified), English, French, German, Italian, and Spanish
Download languages to translate even when you don't have an internet connection
Let Translator speak the phrase for you if you are unsure how to pronounce the translation
Share your translation with other apps
Pin your most frequent translations to save for later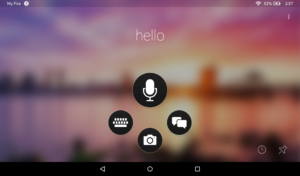 Microsoft Translator translates text, pictures and even your conversations! It has a variety of features to help make your travels easier.
Get prepared for your trip by saving some phrases ahead of time that you know you'll need later on—"Where is the taxi stand?", "Can you drive me to (hotel name)" "How much does this cost?"…
Before you leave, download language packs so that you'll be able to translate images and text during your trip even without an Internet connection.
Once you've reached your destination, you'll be able to respond to something you didn't plan for ahead of time by getting quick translations. Simply type or paste text, or even speak* into your device.
Translate images like street signs, headlines and menus without typing in the text. Just quickly snap a picture directly from the app and translate it in an instant. This also works with any picture you get from email, social media, texting, etc.
If you have access to the Internet, you can use the conversation feature to engage in natural conversations with locals—ask them about their favorite restaurants, cafes, and places to see.
Download Microsoft translator from Amazon. 
Download from playstore using below link.
[pb-app-box pname='com.microsoft.translator' name='Microsoft Translator' theme='discover' lang='en']