It seems like 2017 is going to see a plenty of smartphone innovations from many companies. One among them is the emerging of the bezel-less displays, spread from Mi MIX, LG G6 to Galaxy S8. But minimizing the bezel faces many challenges including the position of many front panel components like Camera, Speaker, sensors, etc. But that too going to have a solution very soon, a Meizu patent shows.
The patent by Meizu was filed many months ago, and now it has been revealed by Meizu official forum. The patent information talks much about an incredible innovation that could change the way smartphones are being made. One of the main things mentioned is a Bone-Conduction Speaker, instead of traditional speaker grill opening on the front panel. The new Bone conduction speaker patented by Meizu works almost same as the one which was introduced in Google Glass. The Bone-Conduction speaker by Meizu vibrates the panel, instead of direct sound output and it could be transferred to users ear canal as sound waves. So there will not be any openings on the front panel, which enables the perfect waterproofing system, as there will be only lesser holes for entry.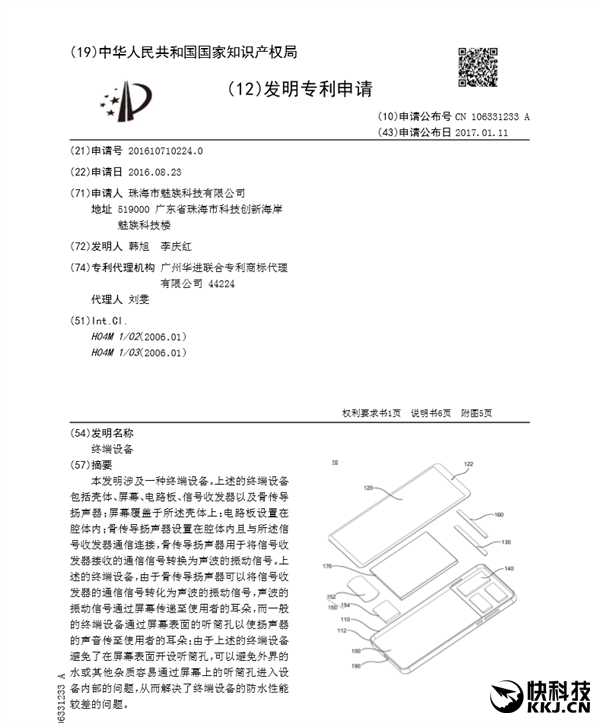 Apart from the Bone conduction speaker, Meizu also working on bringing fingerprint scanner uinderneath the display, which would be Ultrasonic. Instead of mBack, they will arrange all the navigational button to Software on-screen, thus the front panel would become more display comprehensive.
The patent images show a resemblance towards LG G6 or Galaxy S8 in view level, which have zero bezels on sides and narrow thin bezel on top and bottom portions. The innovations are just filed fro patent and it is not clear whether they would introduce it by this year itself.