LG has just fired a spark to the rumor that was talking about the upcoming smartphone device from the company. Today, LG officials trademarked the name of their next product LG Q7. As you already know, the LG Q6 and Q8 devices were two of the best products from the brand. The Q6 was a small G6 and the Q8 was a small V20. So what could be the Q7?
The trademark records in the Korean Intellectual Property Office (KIPO) reveals the name of their upcoming smartphone model Q7. As you are aware, the Q series is mostly the small versions of respective flagship models of the company. So we believe that the Q7 will be the short version of the flagship LG V30. We don't have any detailed information about the specifications and features of the Q7. However, the pricing would be around $500 if it still follows the predecessor.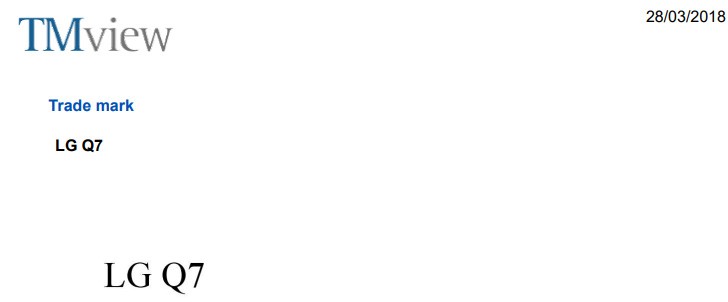 If you don't know, Q6 is the younger sibling of the company's flagship model G6. It was first launched last month and now arrives in India. Interestingly, it has a similar design of the G6 on the front side. Also, the body has the same quality and finishing. Another interesting fact is that the device sports an aspect ratio of 18:9, which is similar to the LG G6. However, this new Q6 is a matching sibling of the G6. It features a 5.5-inch display with 2160×1080 resolution. Yes, the display is the biggest USP of this device. It runs on a Qualcomm Snapdragon 435 processor coupled with a 3GB of RAM. It comes with a 32GB of internal storage. It boasts a 13-megapixel main camera and a 5-megapixel front camera. The front camera is a wide angle one.