AnTuTu Benchmark has recently published the specs of upcoming, most awaited HTC Nexus Marlin on Weibo. The specs revealed for the device seem almost similar to Samsung Galaxy Note 7.
HTC Nexus Marlin features a 5.5 inch AMOLED QHD display, half an inch larger than the Nexus sailfish of 5 inch. The device is powered with Qualcomm Snapdragon SoC, which is the power source of major flagships on 2016, but nothing mentioned about previously rumored alleged Snapdragon 821. It has been paired with Adreno 530 GPU, with 4GB RAM and 32GB internal storage. It sports a 13MP rear camera, again proves that Mega Pixel doesn't matter in the quality of imaging and it is coupled with an 8 MP Front facing unit.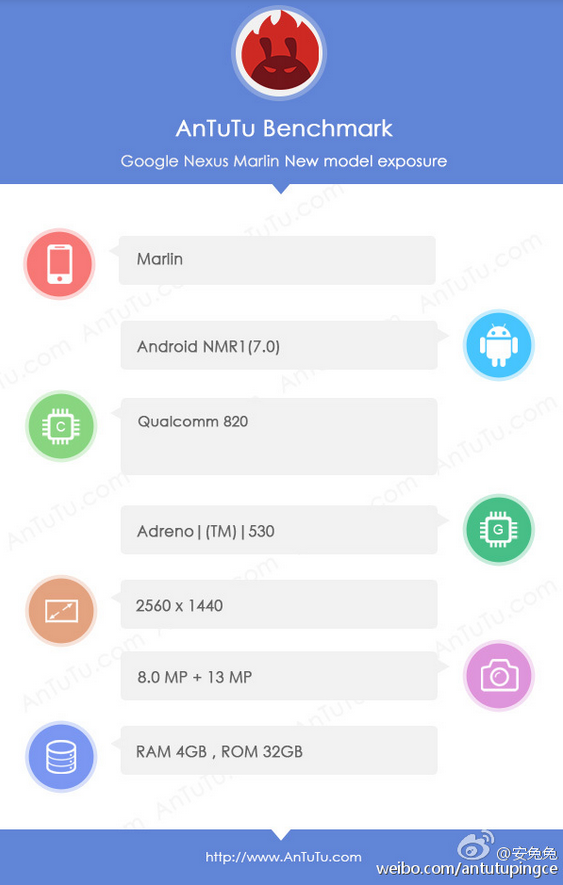 Nexus Marlin will run Android Nougat 7.0, juiced up with 3,450mAh battery pack. The device is reportedly to have an aluminium panel, having glass covering on first half of rear panel with a fingerprint scanner module added. Recently the device have passed through FCC and they're expected to be unveiled soon.