Everyone feel unpleasant when they run out of storage space on their smartphone. Years ago when smartphones didn't come with 32, 64 or 128 GB's of space, it was quite common for everyone to run out of space and at that time keeping files and app in clouds wasn't really a thing and most people didn't even know about it. If you are still having this problem Google will soon give you some suggestions on how to solve it.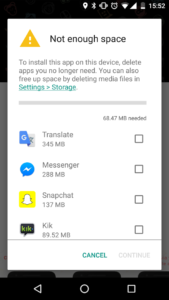 If you go to the Play Store and try to download an app or game and as soon as you tap the install option you get the "not enough storage space" prompt. You then go to the setting of your phone and then to the applications settings and then waste your time to decide which app or game you should delete to free some space. Now you don't have to go through all that because Google has introduced a new uninstall manager feature to the Play Store. As soon as you tap the install option, if you don't have free space you will get a list of the app that are not frequently used and you can also uninstall those app from the list shown.
This new feature is very useful and makes it easy to free space on your smartphone. It is not confirmed that when this feature will roll out to everyone but it will be out in the world soon. If you have seen this update please share your thoughts with us.