HTC is almost finished in doing to bring up the company's next smartphone with Google, known common as Nexus lineup. It is reportedly said that the Google is re-branding the whole Nexus series devices, and there will be no more Nexus devices. Accordance with the report, last years Nexus 5X and 6P manufactured by LG and Huawei respectively are the last smartphones to feature Nexus branding along with the OEM Badge. Google will remove the OEM's branding also from the devices and be named as Pixel.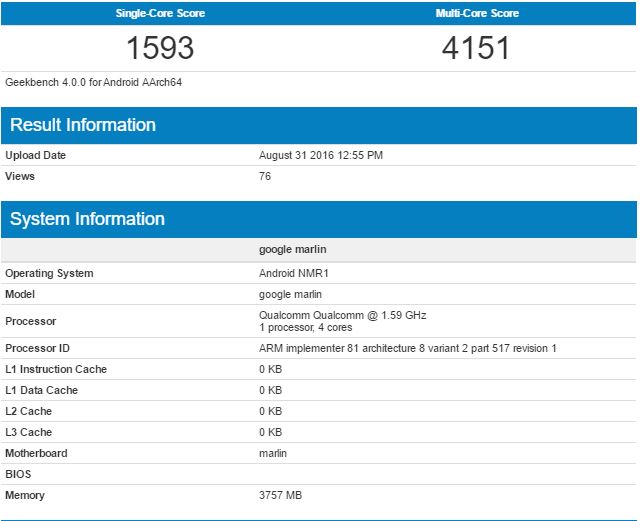 One of the Pixel devices ecided to launch this year, Pixel XL (aka HTC marlin) is now spotted on GeekBench with Processor details revelation. It is listed the processor as is "Qualcomm Qualcomm @ 1.59 GHz 1 processor, 4 cores". As the flagship devices launching in 2016 are powered with the Qualcomm Snapdragon 820 Chipset, HTC is also in the same line to pull in from Pixel XL by putting the Snapdragon 820. As a combination for SD820, being common this year, the Pixel XL is also having a 4GB of RAM which is quite nice for a Pixel (Nexus) device.
The Operating System of the device listed in GeekBench is Android NMR1, which is obviously the Android 7.0 Nougat. The overall and individual scores published there are better that most of the Snapdragon 820 flagships, even the 6GB RAM flagship killer OnePlus 3.
The smartphone is also rumored to have 12MP better camera, with Sony sensor. Anyway, we need to wait a bit more to the official announcement of the device, and even it would not be the first device to ship with Android Nougat, as the LG V20 already acquired the position.