The major update of Google Keyboard brings new features and makes typing easy.Google Keyboard makes typing mast and easy with gesture and voice. With gesture typing you can type word by just swiping over the letters. In voice typing you can compose words on the go.If you don't know what to type just answer with a perfect emoji.
Features:
This new update brings new features to your fingertips as well as some improvements. Let's see what's new.
⦁ One-handed mode of google keyboard allows you to adjust your keyboard for one-hand use. It's a very important feature for those who wants to reply to their messages quickly or for those who wield to devices at the same time. When the one-handed mode is turned on the keyboard moves to one side of the screen closer to thumb and the other side turns into a menu which contains options to move the left or right and to quickly exist the one-handed mode.
⦁ Customization of keyboard height is another useful feature of the google keyboard. Gone are the days of the keyboard taking so much space that you can't even see what you are responding to. Its also useful for those who have large hands and feel difficulty to in typing.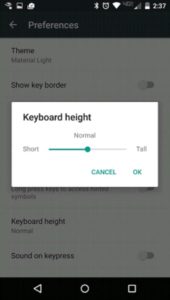 ⦁ Quick access emoji bar is another feature of google keyboard. This bar is present on top of the number and symbols. This bar contains 6 emoji which can not be changed, however the emoji added by google are the one that are mostly used.
⦁ The new gesture features in this update are very useful. You can delete several word by just holding the delete button and then swiping to the left.
⦁ In this update there is no need to add words into dictionary. Google keyboard learns as you write. Write a word once and you will find it in suggestions the next time you write it.
This update is currently not available in some regions so wait until it is available to you. Share your thoughts with us in the comments regarding Google keyboard.