Last year, Huawei has launched their Nexus device with Google, Nexus 6P with 3GB RAM and Snapdragon 810. After the official announcement of Snapdragon 820 by Qualcomm, there were some rumors that Huawei would make use of SD 820 in any of their devices. But Huawei used Kirin 950 and 955 on their Mate 8 and P9. And also we have reported a while ago about the Kirin 960 powered Mate 9. Now, the GeekBench benchmark result revealed some details of a device named "Google Nexus 6P". But it is unsure that it must be Nexus 6P.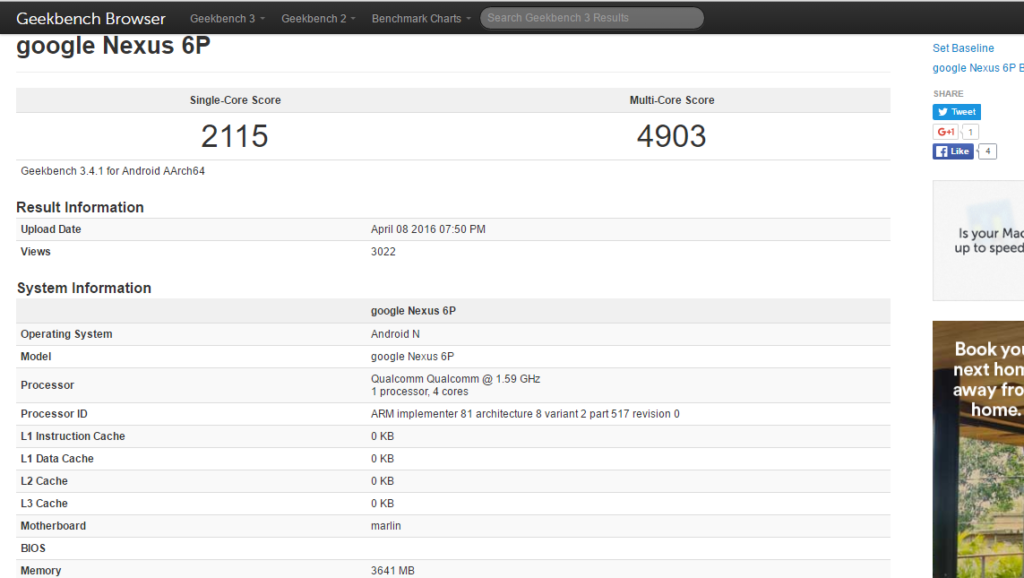 Huawei Nexus 6P spotted on GeekBench seems to have the upgraded specs from Nexus 6P launched last year. The device is powered with Snapdragon 820 Soc with 4GB of RAM. It also runs Google's upcoming OS Variant Android N.
As the Google is getting prepared to conduct the Google I/O developer conference in May, the upgraded version for latest Nexus device seems true, and it should be the first smartphone to feel the real taste of Android N official version. Also, Huawei has registered to the trademark for Nexus 7P, which could be out in near future with Android N and to be powered with Snapdragon 820. But the device coming next month is definitely the Nexus 6P upgraded variant from Huawei. Let's wait for the official announcement for the 4GB RAM variant for the powerful Nexus device. What do you think? express them as comments.