Sony devices are quite costly always. So many of the smartphone buyers ditches Sony products everytime. But Sony can provide great value for price. If you wish to buy a new Sony Xperia, you are lucky. You can now grab a new Sony Xperia Z5 with $100 off from Amazon. This price cut is planned intentionally to increase sales. Also in future, Sony will offer great price cuts for many devices.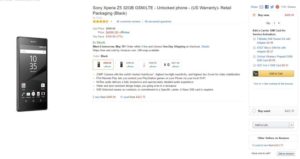 The actual price of the Sony Xperia Z5 is $599, but you can now buy it for only $499. That means you will save $100 in your wallet. The Sony Xperia Z5 keeps up with your fast-paced life so you never miss a moment. Featuring the world's fastest autofocus, the Megapixel camera lets you capture all of the Action as it happens, from snapping blink-of-an-eye shots of your friends to catching once-in-a-lifetime moments in stunning clarity. You won't miss a second of your gaming Action with PS4 remote play, which allows you to seamlessly keep playing your PlayStation games on your phone via your local Wi-Fi network. Hi-res audio means you hear every nuance of your favorite songs, and the waterproof and dust-tight design keeps up with your Active lifestyle in rain or shine. All of this Plus a long-lasting, high-performance battery ensures you'll never miss a moment with the Sony Xperia Z5.
Use the below link to grab one.