It was reported a few days back about an upcoming AI-powered device line-up from the creator Android, Andy Rubin with a  unique platform. The device was hinted to a smartphone with thin bezels (almost zero) and a larger display with a suitable Artificial Intelligence Ecosystem to make it the best, as he is planned to compete against Apple and Google.
The Essential Smartphone has just shown off in Geekbench tests results, revealing major specifications onboard. Interestingly, the smartphone runs on Android which he played a pivotal role when involved in building the platform, instead of a new Operating System. The device carries the model number "Essential FIH-PM1" in Geekbench listing.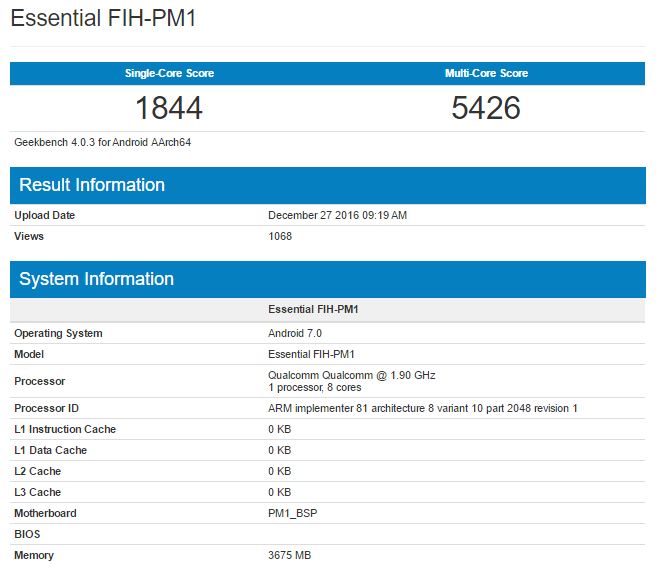 Andy Rubin's essential smartphone is powered by a custom tuned Qualcomm Snapdragon chipset, clocked at 1.9GHz, probably Snapdragon 835. The smartphone pairs a 4GB of RAM onboard; runs Android 7.0. The Essential is expected to have a better performance in running on Android Operating System, because creator knows best.
Although, the device performance score much better than Google's Pixel XL in both single and multi-core performance and Apple's iPhone 7 Plus in Multi-core. The Geekbenchappearance makes us believe that the device has already been ready under their sleeves. More information and confirmation will be out only after the official confirmation of Andy Rubin.