Qualcomm on Monday announced their new processors- Snapdragon 660 and the Snapdragon 630. The company has officially unveiled these new processors as the new generation mobile platform. These new processors are of midrange, but capable of delivering flagship-like performance and efficiency. So we can expect some midrange smartphones with a great performance in the future.
"With the introduction of the Snapdragon 660 and 630 Mobile Platforms, we are thrilled that features such as improved image quality and fast LTE speeds will now be available in a wide array of devices without sacrificing performance or quality," – Kedar Kondap, vice president, product management, Qualcomm
Snapdragon 660

Snapdragon 660 is a small upgrade from their popular 653 chipsets. So it does have so many changes and improvements as compared to the 653. Most importantly the company has moved from a 28nm process down to the 14nm node and it is more efficient as compared to the 28nm. The Snapdragon 660 comes with the Adreno 512 GPU and it is very powerful than the Adreno 510. The other features include  X12 LTE modem, Quick Charge 4, Bluetooth 5 and  USB Type-C support.
Snapdragon 630
Snapdragon 630 is a less powerful chipset as compared to the 660. But still, it does offer some good features and performance. It is much better than the predecessor SD 625 and the performance is really great. Just like the, SD 660, this processor also built with the 14nm process for the improved efficiency.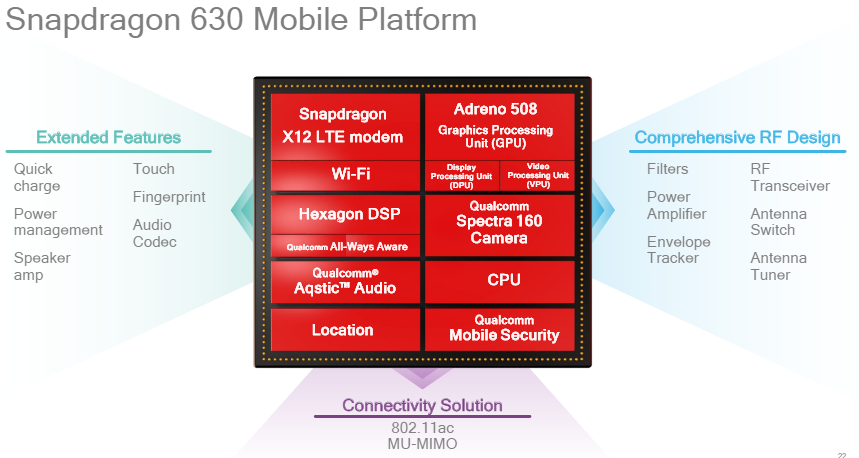 It offers Adreno 508 GPU and the other features are almost same as the 660. The other features include  X12 LTE modem, Quick Charge 4, Bluetooth 5 and  USB Type-C support. Additionally, it includes the support for QXGA (2048 x 1536) displays as well. Overall, both of these processors are efficient and more powerful as compared to the predecessors. Well done Qualcomm!