Many Android users are wondering what is the best tracker for Android phones?
Most of us do not know what a phone tracker is and what the scale of its use is. There is also a lot of confusion between several applications and their work.
Let's learn more about Hoverwatch, one of these phone trackers and its features in detail.
A bit more detail about a Phone tracker
First, let's understand what phone tracking is.
Phone Tracking is simply the process of finding an android device (could be an iOS device too) easily without respect to its movement. That means even if you forget it on the train, you'll be able to track where the phone is.
These applications use GPS (Global Positioning System) to constantly monitor the location of your device. Now that we know what a Phone Tracker is and how it works, let's find out more about its applications.
What are the uses of a Phone tracker?
There is a wide range of applications for a Phone tracker some of its popular use cases are discussed in this section.
Parents often use phone trackers to monitor their child's safety. Such applications are quite popular among parents to keep an eye on their teen to keep them away from harm.
Another use for a Phone tracker is to find a lost phone wherever it is. For this, the phone's GPS must be on and the device itself must not be powered off. However, you cannot trust just any application to track the location of your phone or to keep your child safe. There are certain important factors that must be considered before investing in any phone tracking software.
Criteria for Choosing a Good tracker for android
Key Factors to Select the Best Phone Tracker for Android
● Compatibility
The phone tracker must be compatible with all devices, Android, in this case, to ensure that any android device that you install the tracking application in is tracked at all times.
● Does it Work
This is primarily the most important factor, there are a lot of applications that don't really work but charge you for their services. Make sure that the tracker you download and purchase a plan for is competent and tested.
● Usability
If parents and people from older generations are going to use the application, it must be easy to use. This determines the success of any phone tracking application, the ease with which it can be accessed.
● Safety
This is an obvious factor, you are going to trust this application for the safety of your children and loved ones. Installing an application without taking precautions and reading reviews can be dangerous. Some applications misuse the data that they record and share the location with unknown sources, this can be dangerous.
But, with Hoverwatch, a trusted name in the phone tracking industry, you will get nothing but the best phone tracker for Android devices.
How Monitor Your Child's Devices with Hoverwatch?
Hoverwatch is The Best Phone Tracker for Android unlike your average phone tracking application. How?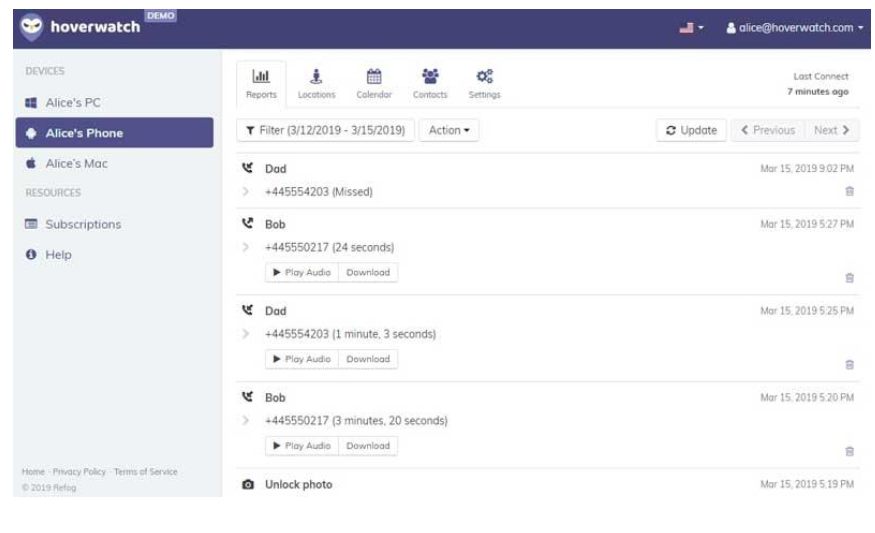 It does not need the GPS to remain on to track an android device. Wherever your child is, you can be assured that they are safe. Program lets you see what they're doing on their phone as well. Parenting is made simple by this safe phone tracking application as it also lets parents monitor their child's social media accounts.
Simply install this application on their phone and they won't even know as it leaves no trace.
Do I need any special knowledge to install and use the Hoverwatch?
Now the question is whether app is easy to use and install. The answer is yes for both, it is easy to install and very easy to use. You don't need any special knowledge to access Hoverwatch.
This is the Best Phone Tracker for Android and is compatible with your Android phone, Windows and Mac Operating Systems, so it gives overall protection to all devices.
Hoverwatch Parental Control software features
Hoverwatch is easily among the top contenders for the Best Phone Tracker for Android phones in the market. The reason? Its extensive range of features for all use cases. These are some of the highlighted features of this premium phone tracking application useful for parents.
● Track Phone Location
This feature is great as it functions without being concerned about the GPS, unlike other phone tracking applications. With this, you can track your kid's location irrespective of the GPS being enabled.
● WhatsApp Spying
WhatsApp is the most popular and convenient communication platform at present. Most of the plans and wrong paths the kids take are fueled by this application as the mode of communication. With the Hoverwatch Parental Control Software, you can keep an eye on who your child is in contact with and whether you need to intervene.
● Track Camera
In case the phone is lost, this feature is quite helpful. Whenever the phone is unlocked by someone other than the selected group of people, Hoverwatch takes a screenshot and stores it in the data administrator's account (Parent's Hoverwatch Account).
● Track Calls
Whoever your child talks to, Hoverwatch records the conversation and you can access the recordings at any time.
How legally to use Phone tracker
One thing you probably already know is that tracking someone's phone is illegal. However, it can be legal in some cases (or do it anyway with certain precautions). Here are some ways to use a phone tracker without getting into trouble.
● Install a Tracker on Devices that YOU OWN
Devices that you own are devices that your children use but bought by you. In this case, it is legal to install a phone tracker for the safety of your loved ones and the phone.
● Keep the User Informed
Inform the user of the device that there is a phone tracking application installed on their device. This can be done in organizations that provide their employees with cell phones.
● Manage the Data
This may not be legal but if you delete the stored data and leave no trace of the tracker being installed, you can avoid getting into trouble.
Application prices
The Hoverwatch Application must be first bought, only then can you utilize its uncountable benefits. To purchase Hoverwatch, these are the plans that are available;
● Personal Plan
This plan lets you monitor a single device for prices varying from $20 to $100 for a month and a year individually.
● Family Plan
The Family plan lets you monitor up to 5 devices for the price of $40 to $200 for a month and a year respectively.
Pros and cons of such programs
Advantages and Disadvantages of the Best Phone Tracker for Android
Obviously, phone tracking applications have pros and cons, some of them are discussed here.
Pros:
-Helpful for Working Parents
Such applications make parenting easy for working parents by assisting them in keeping an eye on what their child is doing in their absence.
-Keep an Eye Out for Traitors
Employees often share confidential information and violate the company's policy; such applications are helpful to find out which employee has misused information.
Cons:
-Easily Accessible Information for Attackers
With all the information available on one platform if the phone tracking application is easy to be hacked then all your information be misused.
-Violation of Privacy
You will be a violating the trust of your loved ones and employees by not informing them about the phone tracker being installed on their phone.
Conclusion
To conclude, a phone tracking application is not always illegal. It can be very useful to keep your children safe from dangerous sources and also protect your company's sensitive data from being abused by treacherous employees. Hoverwatch is currently one of the Best Phone Tracker for Android devices.