Review: HP Pavilion 15 Gaming Laptop, an unfinished battleship
The beast is here!!!
© AndroidHits 2018
Powerful Beast
Because of its super thin bezels, it stands in the better side as compared to any other gaming laptops in the market in terms of design. The build quality is also an excellent part. The display is the biggest USP of this laptop as it covers all colors in the sRGB range. In addition to that, it has great contrast and great brightness and sharp pixels.
Only disadvantage is its battery backup. It is far below than any other gaming laptops in the market. When it comes to gaming, who cares about battery backup?
Gaming laptops are always unaffordable for normal people. All leading gaming laptop brands sell their products with incredibly overpriced tags. However, the tech giant HP is hoping to change that perception with the HP Pavilion 15 Gaming Laptop series. They brought incredibly powerful and affordable gaming laptops to their Pavilion family. That's how we can describe the new HP Pavilion 15 Gaming laptops.
About this review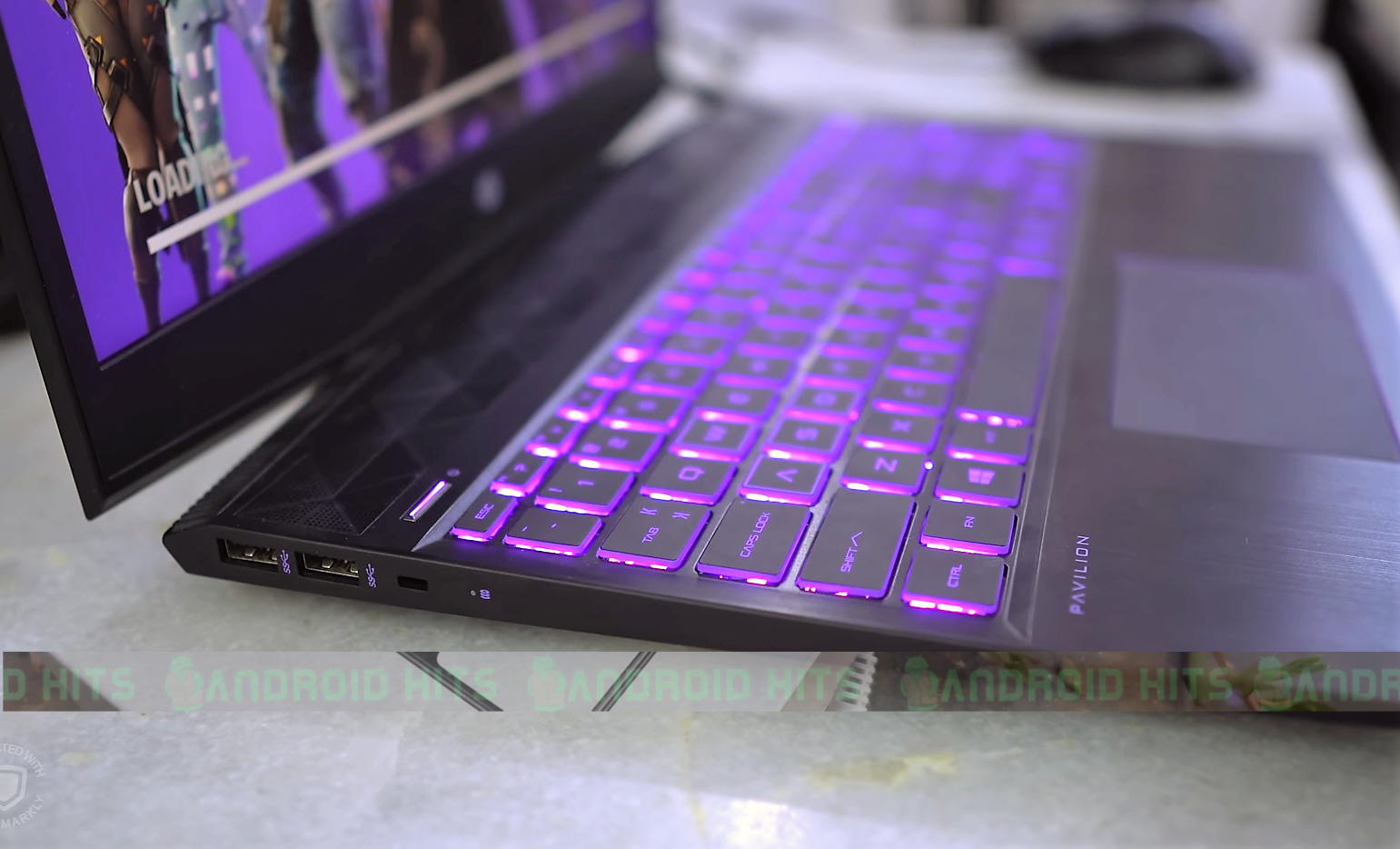 We were very excited to try out and make a review of this awesome laptop. HP India was kind enough to send us a review unit of the same. We have received HP PAVILION GAMING LAPTOP 15-CX0144TX variant, which is the higher variant of the Pavilion 15 series. We have used this laptop for over 2 weeks and conducted many benchmark tests, battery tests etc. We have played some high-end games too. We are very impressed with the performance of this laptop and found out some drawbacks at the same time. This is purely an unbiased review based on the expert evaluation. We are not involved in any type of monetization campaigns with HP India.
HP PAVILION 15 Gallery
Prev
1 of 18
Next
Specifications of HP Pavilion 15 CX0144TX
HP Pavilion 15 Specifications
Processor
8th Generation Intel® Core™ i7 processor
Memory
8 GB DDR4-2666 SDRAM (1 x 8 GB)
Storage
1TB HDD – 7200 rpm |
128GB PCIe® NVMe™ M.2 SSD
Display
39.62 cm(15.6) diagonal FHD IPS anti-glare micro-edge WLED-backlit (1920 x 1080)
Graphics
GTX 1050ti 4GB
Ports
1 HDMI 2.0; 1 headphone/microphone combo; 1 RJ-45; 1 USB 3.1 Type-C™ Gen 1; 3 USB 3.1 Gen 1
Audio
B&O PLAY, dual speakers, HP Audio Boost
Webcam
HP Wide Vision HD Camera with integrated dual array digital microphone
Sensors
Accelerometer
Wireless
Intel® Wireless-AC 9560 802.11a/b/g/n/ac (2×2) Wi-Fi® and Bluetooth® 5 Combo
Battery
3-cell, 52.5 Wh Li-ion polymer
Dimension
36.5 x 25.65 x 2.54 cm
Weight
2.17 kg
What's in the box?
The HP Pavilion 15 comes in a standard laptop box with no fancy look. The package contains the laptop unit and the power cables only. The 52.5 Wh Li-ion polymer battery is non-removable, so it stays inside the laptop. The 150 W AC power adapter comes with the laptop. There is nothing much about the box.
Design and Build
This is the most important section of this review. Because the all new HP Pavilion 15 series laptops are made with the high build quality and awe-inspiring designs. The Pavilion 15 laptop has a really sexy design and it resembles some advanced gadgets that we can see in Sci-Fi movies. Are we in Tony Stark's workspace? Yeah, it looks so. The design is the most attractive component of this device.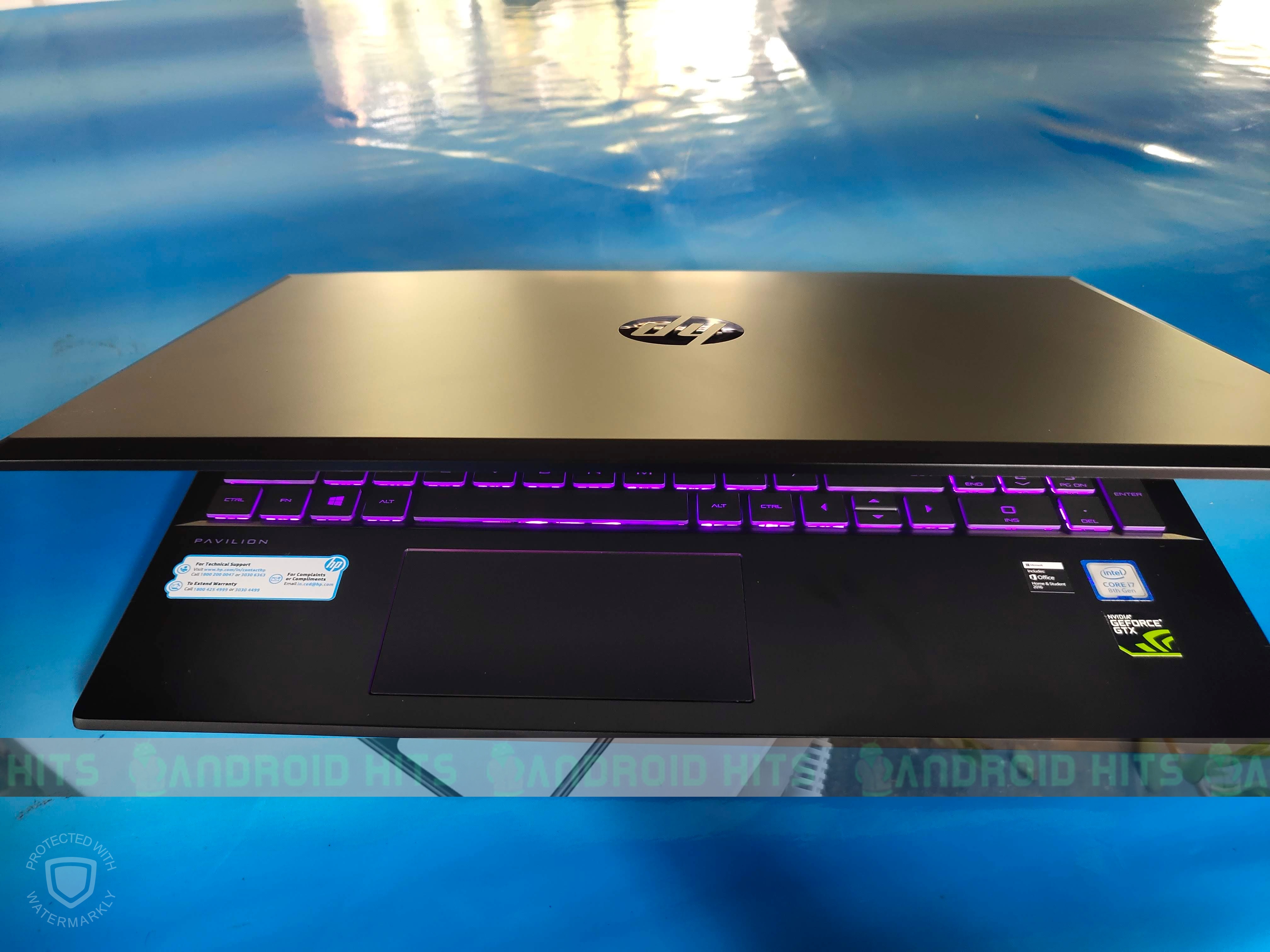 The lid is made of a matte plastic with a chalky smooth finish and a dark gray, green HP logo. When I placed my hand on the lid to feel the texture, I was dismayed to discover that the black surface flexed downward at the slightest hint of pressure. But still, it is a good thing that the laptop won't let anyone apply much pressure on it and it bends to avoid holding more pressure. HP Pavilion Gaming 15 2018 looks completely different compared to its predecessor and this is definitely good looking as compared to other previous models. So far, the Pavilion Gaming notebooks looked more like repainted elegant machines, whereas the new model employs a more aggressive appearance with sharp edges and motifs typical of the gaming segment.
[bs-quote quote="It looks dangerous and sexy at the same time. " style="style-13″ align="center"][/bs-quote]
Talking about the build quality, this one is really a power machine. It has a really strong backbone-like design which makes it attractive and strong at the same time. However, we have noticed some negative build issues in the lid joints. The touchpad and the entire keyboard area is in super quality and very strong enough for a gaming laptop. The most innovative novelty in the Pavilion Gaming design is the removal of the thick bezels around the screen or replacing them with thinner ones to be more precise – just like Lenovo Legion Y530 and ASUS ROG GL504. Thin bezels in laptops are a great deal for anyone and on a gaming laptop, it becomes a special thing. In addition to that, the thin bezels reduce the size of the laptop too.
Although the main order of the day for the chassis is plastic, that's a really bad thing for a one lakh laptop. However, the main panel around the keyboard is made of metal which ensures the stability of the body when using the device. The keyboard of this laptop is very good as it is spacious enough. But the Up and Down keys located right next to each other, whereas their total area is equal to the standard one for the other buttons. However, the keyboard has a good build quality and a comfortable typing experience. HP makes it more comfortable for us to use the gestures on the wider trackpad (11.5 cm).
The lid area is very prone to fingerprints and oils. Each time you touch the lid area, there appears some ugly fingerprints and oil tracks. You will have to clean it up every time to make it look better. Overall, this laptop has its own disadvantages, but it has much more things to love in its design and build.
Display 
HP Pavilion Gaming 15 2018 has a Full HD display with a model number AUO B156HAN08.2 (AUO82ED). It measures at 15.6-inch  (39.62 cm). The resolution of this laptop is 1920х1080p. The screen ratio is 16:9 and its pixel density is 142 ppi with pixel pitch – 0.18 х 0.18 mm. The screen turns into Retina when viewed at distance equal to or greater than 24″  (from this distance one's eye stops differentiating the separate pixels, and it is normal for looking at a laptop).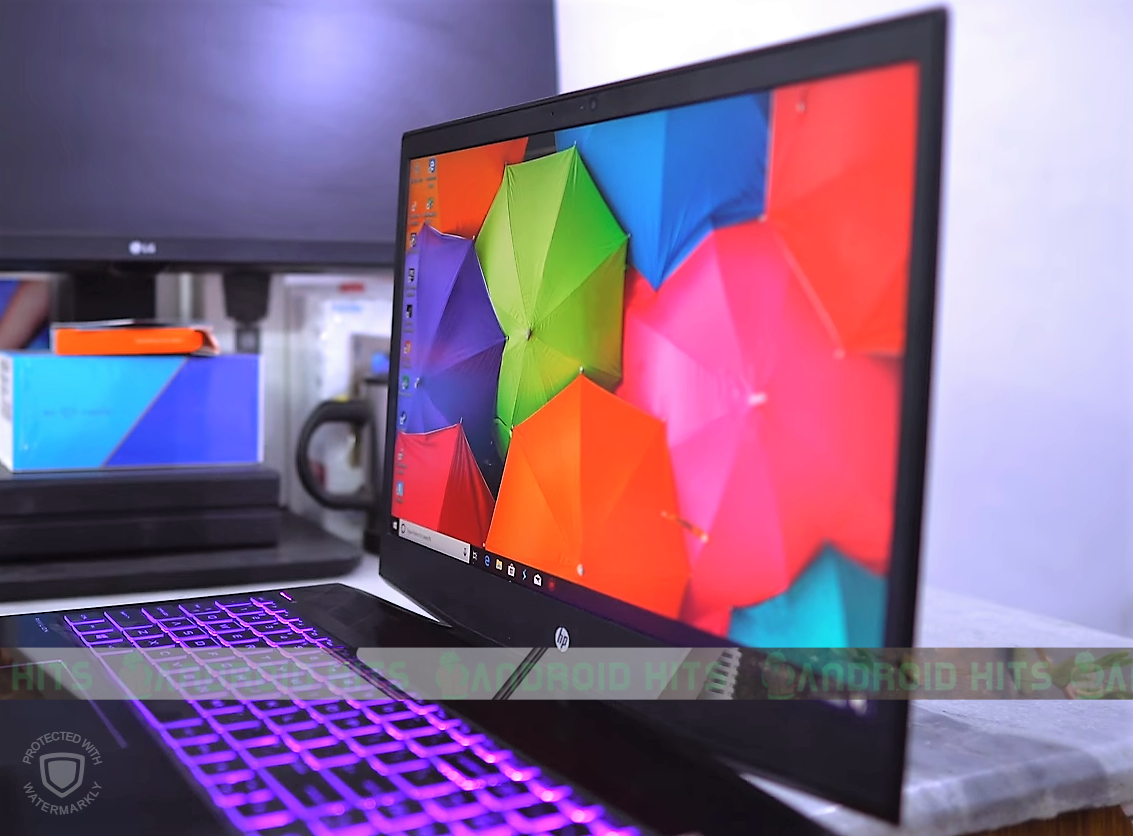 The display is very sharp and it is really overwhelming for a first time gaming laptop user. The total screen brightness is 338 nits in the middle of the screen and 330 nits as an average for the whole area, with a maximum deviation of 5% (from our benchmarking). Its display covers 96% of the sRGB whereas its predecessor covers just 62% in maximum. Indeed it is a great improvement. The color production has improved greatly on the new Pavilion 15 2018 series laptops. Its display panel is one of the fastest panels in the market with a great response time. There's nothing negative about the display of this beautiful laptop.
Hardware & Performance
As mentioned in the specification sheet, this laptop has a really powerful hardware inside the chassis. The laptop comes with Intel® Core™ i7-8750H Processor (2.2 GHz base frequency, up to 4.1 GHz with Intel® Turbo Boost Technology, 9 MB cache, 6 cores). It is one of the most powerful computer chipsets in the market. It can handle all forthcoming and existing games and other heavy tasks.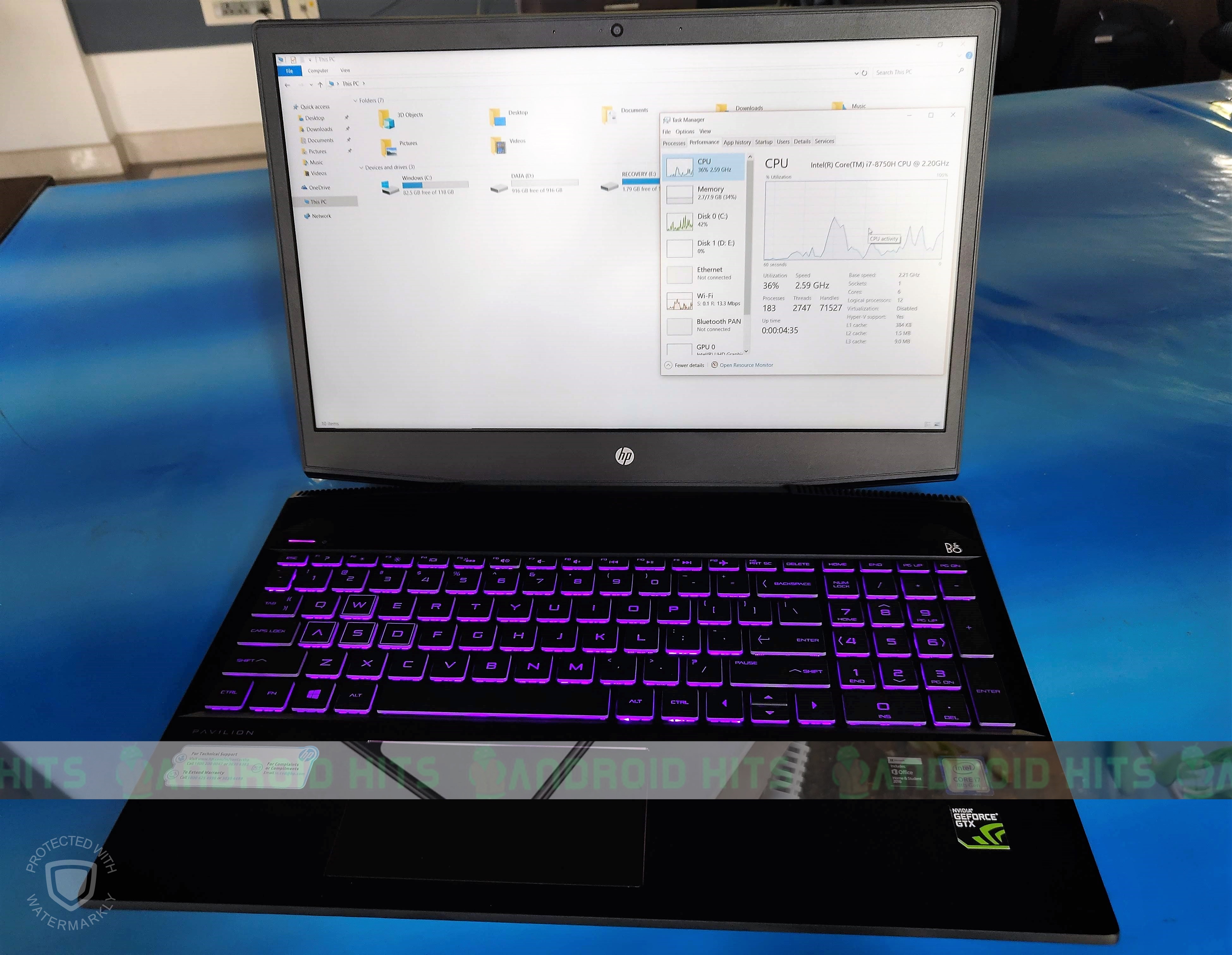 Based on our benchmarks, the HP Pavilion 15 Gaming laptop has shown a score of 1053 in 3D rendering, whereas its competitors like Lenovo Legion performs at 1201. From this data, we can conclude that this laptop is not up to mark for 3D rendering as compared to its competitors in the same price range. When it comes to the performance in Adobe Photoshop, HP Pavilion 15 shows 7.39 as the performance score, whereas the Lenovo Legion shows 6.61. However, their competitor Asus ROG GL504 shows 8.16 as the total performance score. (Tests are conducted through popular benchmarking platform Cinebench 15 CPU test). On Fritz chess benchmark test, the laptop has shown a score of 14302 which is outstanding for a laptop in this range.
GPU & Gaming 
The predecessors of this laptop only come with GeForce GTX 1050, GTX 1050 Ti and Radeon RX 550 GPUs. However, the latest model HP Pavilion 15 2018 comes with the most upgraded and powerful GeForce GTX 1050Ti 4GB GPU.
Benchmark results of HP Pavilion 15 2018 on different platforms

| Benchmark Platform | Score |
| --- | --- |
| 3DMark: Fire Strike | 7673 |
| Unigine Heaven 3.0 | 2406 |
| Unigine Heaven 4.0 | 1822 |
| Unigine Superposition | 1292 |
These results are based on our unbiased benchmarking based on the world-popular benchmark tools and platforms. You can compare these scores with other leading gaming laptops to see the difference.
We have tested this laptop with many of the high graphics games to check its functionality and gaming performance. This laptop performs well for handing high graphics games and never lags a bit during the gameplay. However, we can see some latency in the 3D rendering and other similar rendering processes, that makes a negative point. Anyways, check out the below table for the detailed comparison with two most popular games.
HP Pavilion 15 2018 Gaming Performance Test
Games
Full HD
High
Full HD
Very High
Grand Theft Auto V
81 fps
42 fps
Far Cry Primal
54 fps
44 fps
Battery
The new HP Pavilion 15 series gaming laptop comes in two different battery configurations – 52.5Wh and 70Wh. The model we have is equipped with a smaller one. The battery is nonremovable and it is an Energy Star certified battery. It connects to a 150 W AC power adapter for charging.
The charging cable is long enough and comes in a really cool design. However, the battery performance of this laptop is pathetic as it lasts just 3hrs in maximum on normal usage. So if you are looking for a gaming laptop with a good battery backup, I suggest you get the Asus ROG GL504 or Dell G5 15 models.
Final Verdict
As we mentioned above, it competes really hard with the leading powerful competitors like ASUS ROG GL504 and Lenovo Legion Y530 in terms of price and power. Because of its super thin bezels, it stands in the better side as compared to any other gaming laptops in the market in terms of design. The build quality is also an excellent part.
The display is the biggest USP of this laptop as it covers all colors in the sRGB range. In addition to that, it has great contrast and great brightness and sharp pixels. The performance also stands out when enjoying high graphics involved games. However, the only disadvantage is its battery backup. It is far below than any other gaming laptops in the market. When it comes to gaming, who cares about battery backup?
BUY NOW