You have your e-commerce store all set up on Shopify and you are doing pretty well. Do you want to grow your business and take it to a whole new level? Then perhaps you need to start selling your products on Amazon. But how do you do that and is it really that simple? Thankfully, Shopify has made it simple by allowing you to add the Amazon sales channel so that you too can sell on Amazon and increase your sales like millions of other sellers who are doing the same. Amazon is the world's largest online marketplace and you can tap into its potential by selling there.
How To Sell On Amazon Through Shopify?
Following are the steps in brief about how you can start to sell your products on Amazon through Shopify.
Step 1: Meet The Requirements
You need certain basic requirements in order to be able to sell on Amazon through Shopify. You should have a Shopify plan, you must be selling in either US or Canadian dollars, your products must come under the supporting category, and you must not be shipping using 'Fulfilled by Amazon'.
Step 2: Add Amazon Sales Channel
The next step is for you to add the Amazon sales channel in Shopify. On the left-hand side of your Shopify account, you will see that there is a plus sign through which you can search for Amazon and add it.
Step 3: Create Amazon Seller Account
It's mandatory that you have a professional seller account in order to be able to sell on Amazon. The fee for this is $39.99 per month. In addition to this, you may have to pay a certain fee for the products you sell and depends on the category that your products belong to.
Step 4: Products Should Be In Supported Categories
Amazon is strict when it comes to your products belonging to certain categories. For some categories and products, you need the approval of Amazon in order to sell them on their site. This is because Amazon cares about customer loyalty and wants to ensure that they can shop with confidence.
Step 5: Create New Or Claim Existing Amazon Product Listings
You need to have product listings to sell on Amazon. If this is the first time you are selling on Amazon, then you need to create new product listings. Else, you can claim the product listings that you already have on Amazon.
You are required to create product listings on Shopify to sell on Amazon.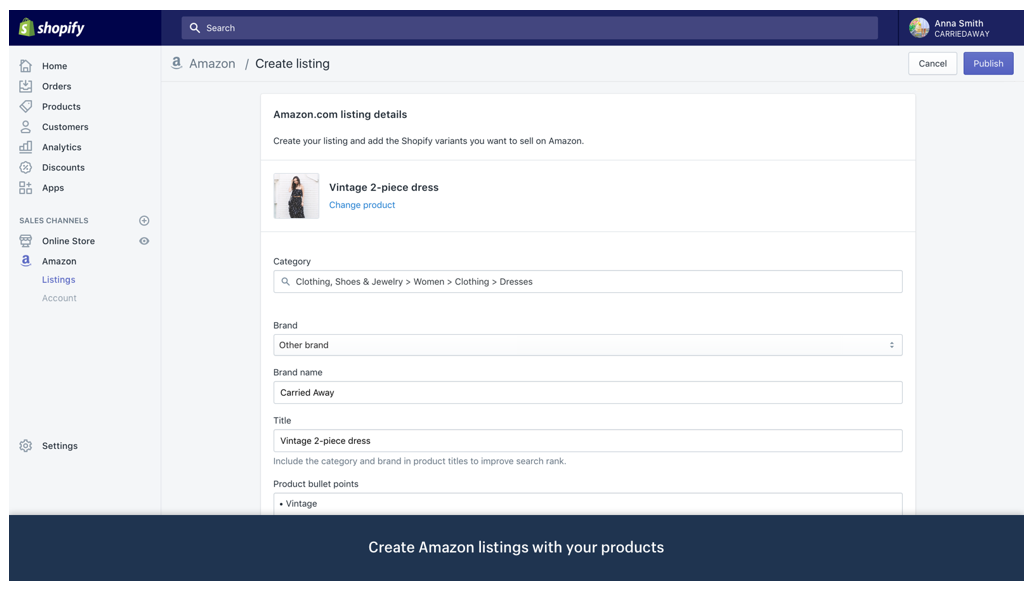 Step 6: Choose How You Want To Manage Your Inventory
There are multiple ways in which you can manage your inventory. You can opt for Shopify's inventory settings. Else, you can choose to manually manage your inventory. You can now start to sell on Amazon through Shopify.
How Shopify Makes It Easy To Sell On Amazon
There are many ways in which Shopify makes it easy for you to sell your products on Amazon. This holds true whether you are a new seller on Shopify or you have already been selling on Shopify since quite some time. Shopify's integration with Amazon and the ability to merge the best of two worlds is made easier because of the control Shopify provides you with.  
Whether your customers are buying your products from Amazon or whether they make a purchase through Shopify, you will get the notifications on Shopify. You will be up to date with what is happening on the two platforms with utmost ease.
When you sell on Amazon and on Shopify, you will be able to manage the inventory easily from both. Shopify makes it possible to distinguish which orders are from Amazon and which orders are from your Shopify stores.
Managing Amazon inventory is made simple by Shopify.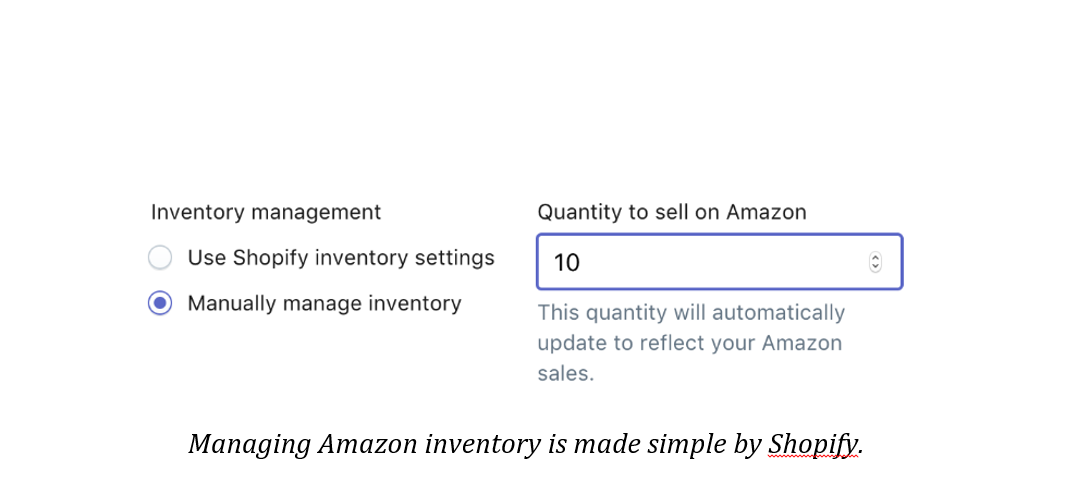 Shopify

creates extensive analytics reports that help you understand how your store is doing, buyer behavior and the revenue being generated. You can then use this information to increase your sales and generate more earnings.
The transactions that take place when you sell on Amazon through Shopify are reflected in your Shopify dashboard. This makes it convenient for you to know about everything regarding the orders.
You are able to fulfill the orders that come through Amazon through Shopify itself. This makes it convenient as you don't have to keep track elsewhere and everything can be done from one place directly.
Shopify's integration with Amazon allows your brand to become more visible to a much larger audience. The increased visibility allows your Shopify store to expand and touch new heights in a shorter duration. When you sell on Amazon, you have the potential to be discovered by new customers who are not aware of your store. This can help build a large customer base that can drive sales increasing your total revenue. Selling on Amazon through Shopify will be one of your most rewarding investments.